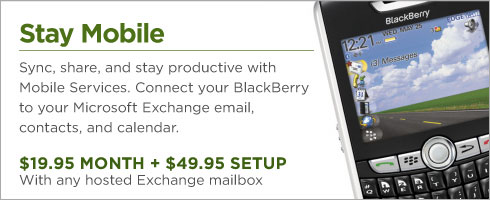 Easily access your information and communications from your BlackBerry device. HostMySite.com BlackBerry hosting tightly integrates with Microsoft Exchange and works with existing enterprise systems, enabling push-based, secure access to wireless email and other corporate data.
BlackBerry Enterprise Server uses push technology to automatically route the entire email message to your BlackBerry handheld, without the need to request or download the message.
Feature List
No need to have your PC running Blackberry redirector; our servers do the forwarding for you
E-mail forwarding (Push Technology) from your Exchange mailbox to your BlackBerry device
Complete, two-way wireless synchronization of emails
Messages read on BlackBerry are marked as read in Outlook
Messages deleted on BlackBerry are deleted from Outlook
Messages in inbox can be searched quickly from your BlackBerry device
View email attachments (Word, Excel, Power Point, Adobe Acrobat, etc.) directly from your BlackBerry
Wirelessly sync calendar (and changes) between Outlook and BlackBerry
Use 3rd party applications from BlackBerry via the Mobile Data Service (MDS). i.e., Instant Messaging
Sync your contacts and calendar between Outlook and BlackBerry

Current customers can add Exchange hosting with BlackBerry through the Control Panel. If you are a new customer please order an Exchange mailbox first.