Humans Included
Our cloud hosting platform makes the process of building a server and publishing sites and applications so easy, you might never need to talk to us. However…
Unlike Amazon and Google you can actually talk to one of our US-based cloud experts if you ever need assistance.

Powerful Control Panel
Manage all of your cloud hosting services, physical cloud servers, Exchange mailboxes, and domain names from a single login and a unified interface.

Pay Only for What You Need
Need extra resources for a day? Use a server for two weeks instead of a month? Our system automatically prorates all servers and resources down to the hour—so you only pay for exactly what you use.

Screaming-Fast SSD Storage
Cloud Host nodes utilize storage clusters with solid state drives and a lightning fast Fibre channel attached EMC SAN.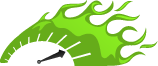 Ultra-Low-Latency Network
A platform is only as fast as the network it's connected to; ours is the fastest in the industry. We own and operate every segment of our network and maintain a 10% peak utilization rate across our facilities.

Your Server, Your Way, Right Away
Provision a server to your exact CPU, RAM, and Storage specifications in seconds.

100% Uptime Guarantee
All cloud services are back by our 100% uptime guarantee—if any aspect of the infrastructure we manage results in an outage, you get a refund.
Click for details.

Seamlessly Scale Resources
Instantly add or remove resources such as RAM at any time from your control panel.

100% Satisfaction Guarantee
If you aren't delighted by your experience with us, you can cancel any time in the first 30 days for a full refund. Review our 30-day Money Back Guarantee

Built-In Fault Tolerance
Outages are bad for both your business and ours. We built our cloud to ensure the highest degree of availability. If a physical node failure occurs, virtual machines are transferred to other operational nodes in the cluster automatically—no configuration or intervention required.