Quick Link to these topics:
Why are we moving to a new technology
What does the term "software migration" mean?
How will it impact my business?
ePages Quick Start Guide
Why are we moving to a new technology?
Based on Miva Merchant's increased license fees, and aging software, HostMySite is excited to provide you with a new and dynamic online-store solution via our e-Commerce partner, ePages. We are teaming up to provide you with a new version of your online store that will both save you money and provide you with the latest technology of shopping cart software for your online business!
Our web hosting expertise teamed up with e-Commerce software experts means you win!
HostMySite recently announced its partnership agreement with ePages—the industry-leading, internationally recognized, online shop software provider—that will provide you with an exciting new shopping cart solution. ePages provides a cloud-based, high-performance ecommerce platform. And that's all they focus on: providing quick and easy management of online stores with great looking storefronts and buying experiences. Because ePages shops live in the cloud, they take care of the security and faultless functioning of your online shop software.
Learn More About HostMySite's
e-Commerce Partner

Now you can join the community of merchants using the No. 1 international online shop software in the cloud. ePages makes it easy: They take care of the security and the faultless functioning of your online shop software. All technical updates are carried out for you automatically and without any additional costs.
To learn more about ePages you may visit their website at epages.com
A copy of your online shop will be set up for you at no cost
In close coordination with HostMySite, ePages techs will soon create a close duplication of your shop for FREE using your present store's product information, product images, and some branding. You will not be charged for the hosting of your new shop on ePages during its development. Only when you cutover to the new store will you be charged with a monthly hosting charge of $35.
Watch your email for the link and login to your new store
You will soon receive an email with the link to your duplicate store and its login and password information. The link and login will be specific and confidential to your organization.
When you are notified we encourage you to spend some time exploring your new shop, and customize your private settings. Please refer to the Quick Start Guide below.
Your present online store will not be impacted in any way through this process.
Your new e-Commerce plan cost? Only $35 per month, including hosting and software license fee!
That's right! After you cutover to your new shop, you will only pay HostMySite a hosting fee of $35 per month. Most customers using Miva are now having to pay a minimum of $80/month because of their unreasonably high licensing. Some customers using Miva have even had to pay more! We don't think you should have to pay a lot to run your store so we found a solution that both saves you money and leverage modern technology which makes it much easier for you to manage your store.

Why does the term "software migration" mean regarding your store move?
In the context of changing your store's software, the term migration refers to a move from using one software program to using another. It is a strategy of moving on from older software with dated features to more modern, efficient software, that takes advantage of advanced technology. The process often includes copying over store assets, or the need to "migrate your data" such as your product information, photos, graphics, and branding, and incorporating it into the new software environment.
While there may be some compatibility challenges faced in a migration, the benefits outweigh any drawbacks.
HostMySite and ePages are Dedicated to Making Your Store Migration as Smooth as Possible
We get it. It's your livelihood. We also understand that migrating any website, in particular an online store, can be particularly challenging.  To help you through the process HostMySite and ePages are providing you with:
A FREE DEVELOPMENT COPY of your store with login based on your actual products and branding

Migration of your product's ID's, description text, and images
Detailed step-by-step instructions for performing the enhancements to your store
Staff who are trained to assist you through the store migration process.
HostMySite Support Are Trained to Help You with Your Migration
All HostMySite Support Staff have attended mandatory training regarding your store migration to ePages.
In addition, easy-to-follow instructions have been developed specifically for HostMySite's Miva users that you may find directly below in the ePages Quick Start Guide.
How to Finish Your Store Migration and
Get the Most of Your New Online Shop
PDF File: 1.3 MB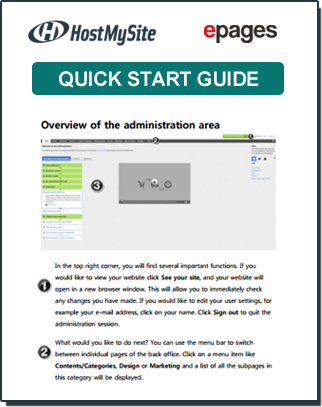 Watch How Easy It Is To Manage Your Online Store with ePages
This two-minute video provides a preview of the
ePages back-office manager for easy store administration.
See how a MIVA shop will look like on the new platform
Here is an example of what customers can expect from modern looking storefronts!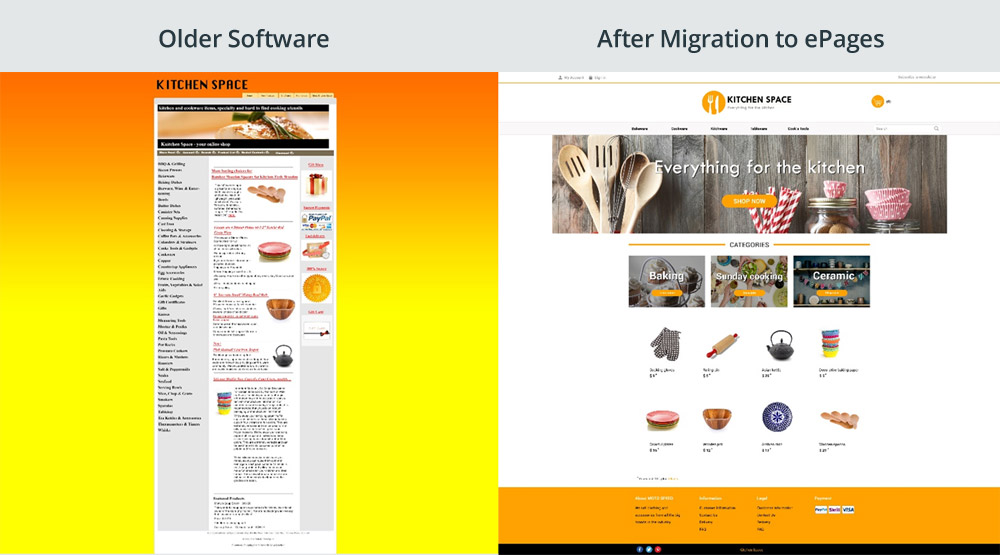 How does the migration impact your business?
The migration process should not impact your business.
To ensure a smooth migration, we will start by duplicating your shop on the new ePages platform. You will be able to access both shops until you are ready to fully move to ePages.
Your products, categories and customers will be automatically migrated. Orders won't be migrated.
Your design will be transferred to a standard template. If you are currently using banners on your homepage, we will do as much as we can to transfer them on your new homepage.
Once you are notified, we encourage you to spend some time exploring your new shop, and customize your private settings. You will need to set up your payment and delivery methods, as well as the basic basket settings (net prices/gross prices/taxes settings etc.). Please keep in mind that your shop will not be operational until you set up your payment methods.
Once your shop is ready please contact HostMySite Technical Support to coordinate and schedule a cutover to your new store. This includes an update to your domain name's DNS record, to point to your new online store. More details will follow via e-mail regarding this important step. HostMySite will closely assist you on this process.
Soon after your domain name points to your new store your former Miva shop will be switched off. Your HostMySite account will will be modified so that you are no longer billed for the hosting plan with Miva but for the new hosting plan with ePages!
Special email address provides 24×7 prompt support for your store move
A special email address has been created so that you may contact HostMySite for any assistance regarding your migration from Miva to ePages:
Please send your store migration inquiries to ePages@hostmysite.com.
A ticket will automatically be created for you regarding your inquiry. HostMySite Support personel will be notified through this address to assist you with your migration as soon as possible!
You may of course contact HostMySite Support through the following contact channels: