Why Plesk Hosting from HostMySite?
If your like most web professionals you may be fed up managing infrastructure and security instead of focusing on Code. Check out how Plesk can help simplify the lives of web professionals.
Plesk is the leading WebOps platform to run, automate and grow applications, websites and hosting businesses.
BUILD – Providing a ready-to-code environment in an intuitive interface for web professionals, Plesk helps developers and designers to focus on their business: developing web applications and web sites for SMBs that scale in the cloud.
RUN – Focus on your business, not on infrastructure management. Save tremendous time by automating all server related tasks and components to run and scale your web applications and websites.
SECURE – By our own research among web professionals, 9 of 10 web application developers only realize the need of securing an application when it's too late. Plesk secures your application and website automatically.
Hosting Plans
Powered by Plesk
Eight Reasons You Should Be Using Plesk
Extensive -The only platform that has feature- and user experience parity on 14 Linux Distributions (including Ubuntu) and 4 Windows Server Versions
Certified – The only platform that is certified to run on major virtualization & container platforms as well as the largest cloud players such as Amazon or Microsoft Azure
Flexible – The only platform that offers web based control panel components to offer simplicity for end users up to flexibility to developers and administrators
Pervasive – The only platform that offers web based control panel components to offer simplicity for end users up to flexibility to developers and administrators
Specific – The only platform that offers specific tools for scalable WordPress hosting and mass-management through an advanced Toolkit (and soon for other applications)
Secure – Broadest levels of supported server security – build in the core and additionally through 3rd parties (OS, Network, Application, Website)
Reliable – The largest ecosystem & 3rd party marketplace in the area of web professionals and cloud based hosting
Complete – Plesk has the most advanced backup features on server, reseller, customer and site level what no other such platform can provide.
At the login screen enter the following case-sensitive username and password: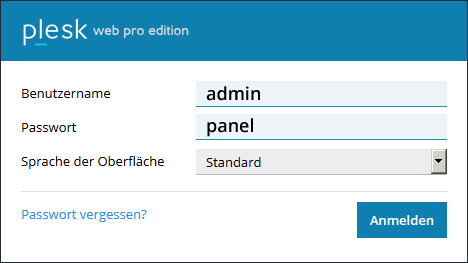 Learn more! Watch the Plesk 12.5 Tutorial: "How to Use the WordPress Tookit"
Become a Plesk Expert with Online Tutorials from Plesk University!
Plesk University is designed with your needs in mind. These courses will help you master key Plesk features such as WordPress Toolkit, securing your server or automating tasks.
To access, visit Plesk University at http://university.plesk.com/. You will need to create an account, then login to follow detailed, step-by-step tutorials.
HostMySite offers Plesk as the default VPS Management Tool
Plesk is designed to help IT specialists manage web, DNS, mail and other services through a comprehensive and user-friendly Graphical User Interface (GUI). Plesk is a hosting control panel, an intermediary between system services and users. For example, when a user creates a website through the Plesk GUI, Plesk propagates this request to a web server, either Apache or IIS, and the latter adds a new virtual host to the system. This method of administering all system services from a single web interface reduces maintenance costs and gives administrators more flexibility and control.
Plesk simplifies web management activities to align with the way infrastructure is used today for hosting websites and web applications. As the most widely used web management solution, Plesk provides everything a web professional needs to set up a website quickly and securely – including a WordPress Toolkit, an easy-to-navigate control panel, server level automation, support-ability tools, and complete protection with our server-to-site security core.