Expand your email storage and capabilities with Shared Mail Professional for only $20/month. Here's what you get:
Domains that subscribe to the Mail Professional package receive a dramatic increase of the storage quota. All Mail Professional domains receive a 5GB storage quota. That's a 400% increase over the standard storage quota!
Enhanced Antispam by Commtouch
Enhanced Zero-hour Antivirus by Commtouch
Exchange ActiveSync for up to 5 mailboxes
Need to sync up your Smartphones or Exchange?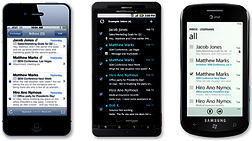 All Mail Professional plans come with Exchange ActiveSync for industry standard synchronization. Syncing SmarterMail with most smartphones is quick, easy and automatic with Exchange ActiveSync. The Exchange ActiveSync add-on is the only synchronization method that uses direct push technology to ensure changes in email and collaboration (calendars, tasks, notes) are automatically recorded in both SmarterMail and the mobile device in real time.
Need more Exchange ActiveSync users? No problem!


Each Mail Professional package includes up to 5 ActiveSync seats. The following seat packs can be added to all Mail Professional subscriptions.

Additional ActiveSync Seats
per month

5 - $5
10 - $10
25 - $20
50 - $30
100 - $50