How do I claim my Google Adwords Express** and Bing/Yahoo!† Advertising Credits?
When you sign up for a hosting account with HostMySite you receive valuable advertising credits* with the world's foremost search engines, Google and Microsoft's Bing/Yahoo!. To claim your credits and obtain promotion codes, Login to your HostMySite.com Control Panel as the hosting account's Administrator, then perform the following steps: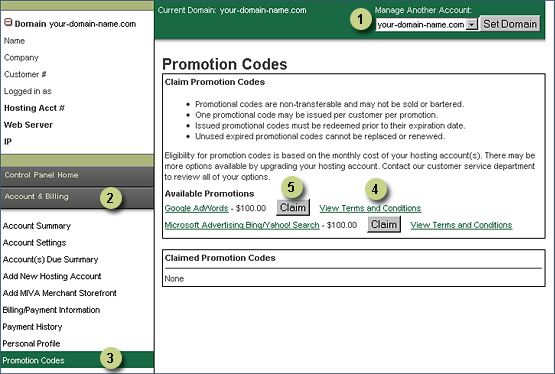 Select the appropriate account to manage and select the Set Domain button.
On the menu, select the Account & Billing.
It will expand…
Select Promotion Codes.
The Promotion Codes page will display and show options to claim your advertising credits or the status of your promotion.
Read the Terms and Conditions thoroughly.
Select the Claim button to obtain your advertising credit promotion code.
Your promotion code will appear within the "Claimed Promotion Codes" section.

Follow the links provided to create or access your Google or Microsoft advertising accounts. When asked for billing information, enter the promotion code.
*Promotional credit value is based on the type of hosting account purchased and is subject to change without notice:
Google advertising credits for all hosting plans, $100
Bing/Yahoo! advertising credits:
Windows Foundation,Linux Standard, $50
Windows Standard/Plus/Pro and Linux Plus, $100
**Google Adwords Express Terms and Conditions: Terms and Conditions apply for online advertising promotional credits
Promotional credit must be applied to a new AdWords Express account and is valid only for new Google AdWords Express customers with self-managed signup accounts.
Advertisers will be charged for all advertising that exceeds the promotional credit. Advertisers can suspend their ads any time before the promotional credit amount is exhausted if they do not wish to receive additional advertising charges. Advertisers will not be notified once the promotional credit is exhausted.
Offer subject to ad approval, valid registration, and acceptance of the Google AdWords Express Program standard terms and conditions.
The promotional credit is non-transferable and may not be sold or bartered.
Offer may be revoked at any time for any reason by Google Inc.
One promotional credit per customer.
Offer valid only for sign-ups through the URL provided for the promotion by customers with billing address in the US.
Offer expiration can vary. Please review the media containing your promotional credit to determine expiration date.
Your use of this voucher and/or the promotional credit constitutes your acceptance of these terms and conditions. Offer void where prohibited by law.
†Microsoft adCenter Bing/Yahoo! Search! Advertising Offer Details: Offer expires December 31, 2011 (midnight Pacific Time) and applies to HostMySite.com customers who purchase qualifying products from HostMySite.com and who are new adCenter advertisers only. Any portion of ad credit not used within 90 days from the date you signed up will expire. Ads must be stopped after ad credit is used up or within 90 days from date account was opened, whichever comes first, or your credit card will be charged for advertising clicks. Offer valid to residents of 50 United States and Washington, D.C., only. Limit: one ad credit per customer. Offer may not be combined with any other offers or discounts, separated, redeemed for cash, transferred, sold, or bartered. There is a minimum bid requirement of $0.05 per click through when using adCenter. This offer is subject to ad approval and acceptance of and compliance with the Microsoft Advertising adCenter standard Terms and Conditions, which are located at https://adcenter.microsoft.com/TC.aspx