What are the reporting options available?
The following article explains the options available when viewing a report item. The number of options available will be determined by the type of report you are viewing. These options are typically displayed to the right of the report, but they may also be available when creating a Custom Report and adding reports to your Favorites list.
Calendar
The calendar is used to determine the date range of each report. By default, the date range will be the past 7 days. Clicking on the calendar will change the date range in the following ways:
Clicking on a specific date will select that day
Clicking a single arrow to the left will select that week
Clicking on the double arrow will selec the entire month
Clicking either the left or right arrow next to the month will cycle through the available months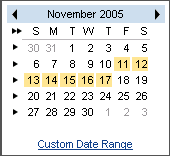 You also have the option to enter a customer date range for your report. This will allow you to enter any available starting date and end date. Depending on the report, you may be limited in the size of the date range. Click Custom Date Range below the calendar to enter specific dates.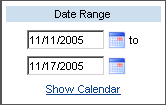 Options
The options section allows you to customize the display and results of your reports. Depending on the report you are attempting to generate, the options will vary. Below is a list of each available option.
Report Item: select the report item you wish to add
Name: enter a name for the report item
Rows: choose the number of rows to be displayed
Sort By: choose the order in which the data will be sorted
Date Range: choose the date range for the results
Chart: choose the type of chart for the results
Values: choose the values to be charted
Filter Set: choose a filter set to apply, if applicable