Why cPanel Hosting From HostMySite?
The answer is this: You get the ultimate in website management combined with the ultimate in technical support and customer service!
cPanel provides an intuitive interface to help website owners manage their sites, email accounts, databases, applications, security, and more. Backed by our world-class, 24/7 support, HostMySite cPanel customers can be sure they are getting the most out of their servers. HostMySite's cPanel Hosting VPS features our super high-performance hardware, low latency network, and iron clad data centers. We have you covered with a 100% Uptime SLA and 100% Satisfaction Guarantee.
See how cPanel works perfectly for the following types of end users:
With the cPanel interface, website owners are able to manage all aspects of their account and domains.
Create email accounts, available through the standard protocols including POP, IMAP, and SMTP – all with our without SSL encryption
Use cPanel's "Backup Wizard" to easily back up data with just a few clicks. You'll get a full backup of databases, email and web sites – available to download to your computer or send to another server over FTP
Easily create and manage databases and database users with cPanel's database wizards
Minimize setup time with the "Getting Started Wizard" which will walk you through the initial configuration of your account
Manage subdomains, parked domains, and add-on domains from your account
Upload and manage web pages in cPanel's File Manager. Drag and drop files using the Web Disk feature or traditional file transfer methods
Track your stats with built-in log file analyzers
The cPanel and WHM API allows you to build custom applications that integrate seamlessly.
Robust APIs available for interacting with cPanel & WHM on your server
Submit your app to their Application Catalog to gain exposure and get your app rated
Take advantage of cPanel's robust Developer Resources, including documentation, pre-built libraries, and tools
Learn how to market you app with cPanel's 12 Ways To Market Your Application
Edit themes and branding directly from the cPanel Interface using the Install File Generator and Branding Editor.
Manage customer accounts effortlessly with WHM
Set up your own nameservers, replace cPanel logo with your own branding, and customize your cPanel experience
Edit themes and branding directly from the cPanel Interface using the Install File Generator and Branding Editor.
Monitor Server Status and resources
Maintain complete control over your business with password strength configuration and management, DNS Zone and Record management, Account Creation/Suspension/Termination
Concentrate on serving your customers rather than spending time on server administration
Installing Apps from cPanel is Miraculous with Softaculous!
For only $2 per month, you can add Softaculous to your cPanel control panel and auto-install or deliver apps on the fly. Softaculous is the leading Auto Installer having 312 great scripts, 1115 PHP Classes with more being added on a regular basis. Softaculous is widely used in the Web Hosting industry and it has helped millions of users install applications with the click of a button.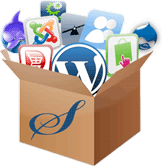 Softaculous Auto Installer easily integrates into cPanel and provides these features:
Simple and friendly User Interface
Valuable Application user ratings, reviews and demos
All 312 scripts and apps are regularly updated with more added every day
Import and maintain data of scripts from other Auto Installers
Installs and upgrades the latest versions of the scripts on your site automatically
Add cPanel to a Linux VPS
for only
$15/mo